Metal Roofing
Metal roofing is a long-lasting, energy-efficient, low-maintenance, and aesthetically appealing roofing option that is well worth considering for your home.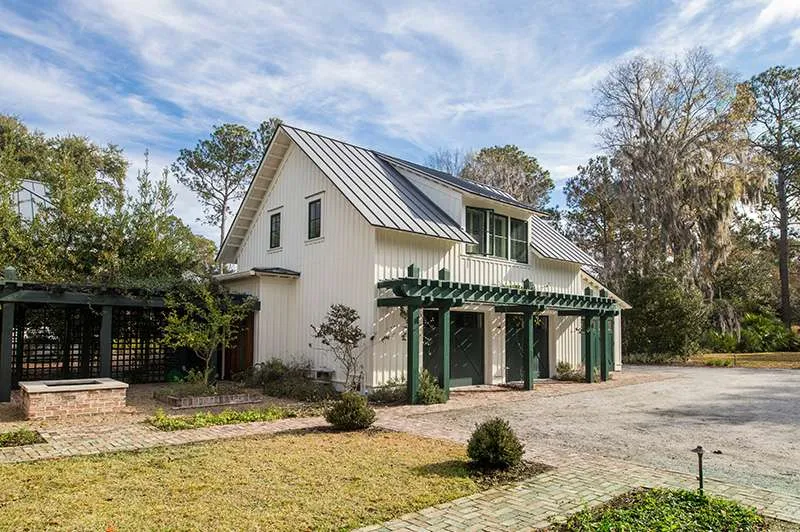 You have a range of options to choose from when selecting metal roofing for your home, including metal panels in different styles. Our company offers premium metal roofing systems, such as Standing Seam, Tuff-Rib, and Commercial PBR, that are capable of sealing out water, withstanding high winds, and easily shedding snow, as well as being resistant to fire, mildew, insects, and rot. Metal roofs are energy-efficient, reflecting solar radiation and potentially reducing air conditioning costs by up to 40% when installed correctly. They also promote building performance by providing longevity, durability, and sustainability.
To experience the long-lasting benefits of our professionally installed metal roofing system, contact us today to schedule a free inspection with one of our sales executives.
The benefits of Tuff-Rib metal roofing include its durability and longevity, as it comes with a 40-year manufacturer warranty. Tuff-Rib is also available in all 20 colors, providing a wide range of options to choose from. Additionally, the metal panels are made from 29-gauge Galvalume, which is a type of steel that is coated with aluminum and zinc, making it resistant to rust and corrosion. These features make Tuff-Rib an excellent choice for residential applications where a long-lasting and aesthetically pleasing roofing solution is desired.
RESIDENTAL
A favorite for many homeowners
Warranties
40-Year Manufacturer Warranty
TRADITIONAL Color Palette
Available in 20 beautiful colors
Standing Seam is a premium metal roofing system available in two gauges, 26-gauge and 24-gauge, and two panel types, standard and striated. The 26-gauge panels come in all 20 colors, while the 24-gauge panels are available in 9 colors, making it easy to find a style that complements your home's design. With a 40-year manufacturer warranty, this roofing system offers long-lasting protection and durability for residential applications.
Both the 26-gauge and 24-gauge panels are constructed from Galvalume steel, which is known for its superior corrosion resistance thanks to its aluminum and zinc coating. The 24-gauge panels also feature a Kynar coating for added protection. Standing Seam's high-quality materials and exceptional craftsmanship make it an excellent investment for homeowners looking for a reliable and aesthetically pleasing metal roofing option.
RESIDENTAL
For those who best a step above the rest
Thickness
26-Gauge Galvalume & 24-Gauge Kynar Coated Galvalume
Warranties
40-Year Manufacturer Warranty
TRADITIONAL Color Palette
26-gauge is available in all 20 colors and 24-gauge in 9 colors
SNOW GUARDS
No panel penetration. Attached to rib with set screws. Custom powder coated to match any standing seam color. Mounted on every panel rib in a staggered pattern.
SNOW DEFENDER
Available in all Tuff-Rib color options. Stainless steel powder-coated. Installed in two staggered rows parallel with drip edge/gutter. Neoprene gasket on bottom.
SNOW BAR
Available in all Tuff-Rib color options. Installed on the roof parallel with the drip edge/gutter. Fastened with 2-inch screws through the rib. More cost-efficient option compared to the Snow Defender.
SNOW RAILS
A special order item. Color-matched to any standing steam color with a metal strip color insert. Mounts to the rib with a clamp system.