Commercial Roofing
Providing professional roofing systems for our local businesses.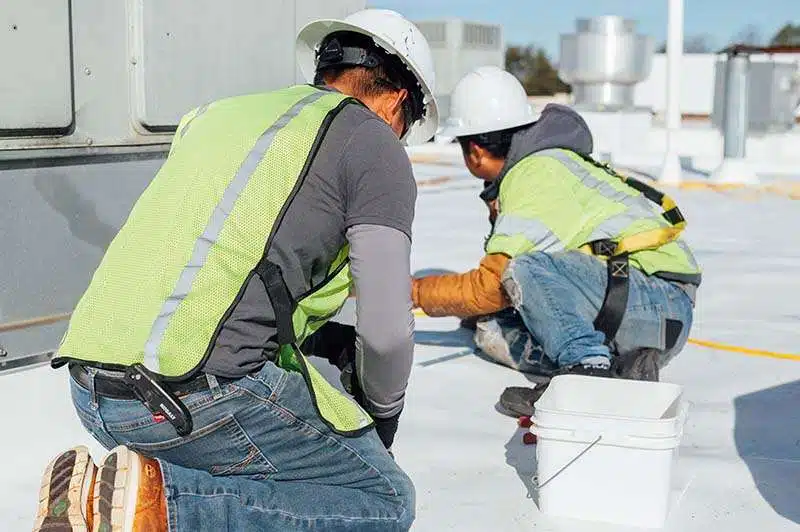 Our company boasts an exceptional reputation among commercial and industrial business owners in Central Virginia. Our expertise lies in the installation of various commercial roofing systems, including modified bitumen, single-ply membranes, and liquid-applied silicone. We work with membranes such as ethylene propylene diene monomer rubber (EPDM), thermoplastic polyolefin (TPO), and polyvinyl chloride (PVC). Regardless of the project size, we have the expertise and the team to deliver exceptional service with precision and efficiency. We understand that commercial roofing systems require more attention and time than residential roofs, but we can assure you that we will complete the job to perfection and on time.
Schedule a free inspection with our commercial sales executive who will identify the best solution to bring your building up to code and keep your business dry, click the button below.
EPDM is a durable synthetic rubber roofing membrane. EPDM is widely used in low-slope and flat roof buildings. Its two primary ingredients, ethylene, and propylene are derived from oil and natural gas. EPDM is available in both black and white. EPDM can be installed either fully adhered, mechanically attached, or ballasted, with the seams of the roofing system sealed with liquid adhesives or specially formulated tape. FullForce EPDM,RubberGard EPDM, PlatinumRubberGard EPDM Pre-Taped
"Our high-quality synthetic rubber compound is the foundation for RubberGard™, the industry's premium-grade EPDM roofing membrane. With durability, flexibility, and UV resistance built-in, RubberGard™ EPDM is a versatile roofing solution you can count on. From office buildings and distribution warehouses to hospitals and schools, RubberGard EPDM delivers outstanding, long-lasting performance no matter the climate."
RESIDENTAL
A favorite for many homeowners
EPDM is a durable synthetic rubber roofing membrane. EPDM is widely used in low-slope and flat roof buildings. Its two primary ingredients, ethylene, and propylene are derived from oil and natural gas. EPDM is available in both black and white. EPDM can be installed either fully adhered, mechanically attached, or ballasted, with the seams of the roofing system sealed with liquid adhesives or specially formulated tape. FullForce EPDM,RubberGard EPDM, PlatinumRubberGard EPDM Pre-Taped
"Our high-quality synthetic rubber compound is the foundation for RubberGard™, the industry's premium-grade EPDM roofing membrane. With durability, flexibility, and UV resistance built-in, RubberGard™ EPDM is a versatile roofing solution you can count on. From office buildings and distribution warehouses to hospitals and schools, RubberGard EPDM delivers outstanding, long-lasting performance no matter the climate."
RESIDENTAL
A favorite for many homeowners