The Definition of Black Metal Roofing
Black metal roofing is a type of roofing material that is made from metal and has a black finish. The black color can be achieved through various methods, including painting, powder coating, or using pre-painted metal sheets. Black metal roofing can be made from several different types of metals such as steel, aluminum, copper, or zinc.
A Brief History of Black Metal Roofing
Metal roofing has been used for centuries, with the first recorded use dating back to ancient Rome. However, it wasn't until the Industrial Revolution in the 1800s that metal roofs became more widely used due to advances in manufacturing technology.
In the early 20th century, black metal roofs were commonly used on industrial and commercial buildings due to their durability and low maintenance needs. Over time, the popularity of black metal roofing grew among homeowners looking for a modern and stylish alternative to traditional roofing materials.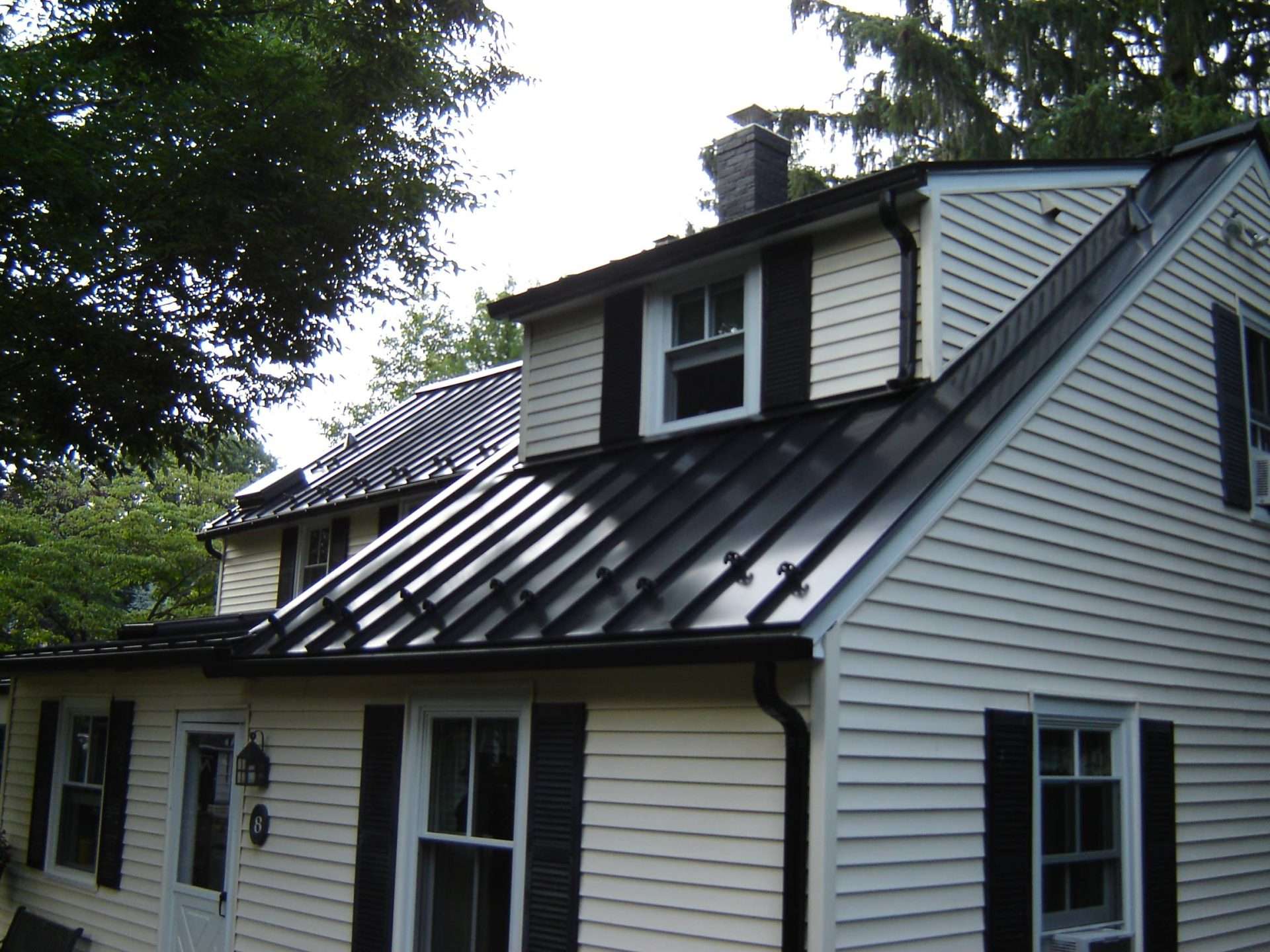 The Importance and Benefits of Black Metal Roofing
Black metal roofing offers several benefits over other roofing materials. One major benefit is its durability; it can withstand extreme weather conditions such as heavy rain or snow without showing signs of wear or tear. Additionally, black metal roofs are eco-friendly since they are often made from recycled materials and have a long lifespan compared to other roofing materials.
Another advantage of black metal roofing is its energy efficiency; it reflects sunlight which reduces heat absorption into the home during hot summer months. This helps keep interiors cool without having to rely on air conditioning systems which results in lower energy bills.
An important consideration for homeowners is aesthetics; black metal roofs offer a sleek and modern look that can complement any style home architecture while adding value to your property. Overall, black metal roofing combines functionality with style making it an increasingly popular choice for homeowners as well as commercial and industrial property owners.
Types of Black Metal Roofing
Black metal roofing is an excellent roofing material that not only enhances the curb appeal of a building but also offers exceptional durability and longevity. There are different types of black metal roofing, including standing seam metal roofing and corrugated metal roofing.
Standing Seam Metal Roofing
Standing seam metal roofing is a type of black metal roofing that features vertical panels with raised seams that interlock to form a watertight seal. This type of black metal roofing has become increasingly popular in recent years due to its sleek appearance and durability. One advantage of standing seam metal roofing is its ability to expand and contract with temperature changes without cracking or warping.
Additionally, standing seam metal roofs typically have longer lifespans than other types of roofing materials, with some lasting up to 50 years or more. However, one disadvantage of standing seam metal roofing is its cost, which can be higher than other types of black metal roofs.
Additionally, this type of roof installation requires specialized equipment and expertise, making it important to hire experienced contractors for installation. Best applications for standing seam metal roofing include modern residential constructions as well as commercial buildings such as warehouses and retail spaces.
Corrugated Metal Roofing
Corrugated metal roofing is another popular type of black metal roof that features horizontal panels with ridges or waves. This type of black metal roof has been in use for over 100 years because it's lightweight, durable, and easy to install. One advantage of corrugated steel roofs is their strength which makes them resistant against extreme weather conditions like hailstorms.
They are also energy efficient since they reflect sunlight away from the building's interior keeping temperatures lower during summer months while retaining heat in winter months However, one disadvantage associated with corrugated steel roofs is their susceptibility to rust over time if not properly maintained.
Rust can cause leaks and reduce the lifespan of the roof. Best applications for corrugated metal roofing include agricultural buildings, factories, and industrial warehouses due to its strength and durability.
Choosing the right type of black metal roofing depends on various factors such as cost, durability, and aesthetic appeal. Understanding the advantages and disadvantages of different types of black metal roofing can help you make an informed decision when investing in a new roof for your building.
Materials Used in Black Metal Roofing
Steel
Steel is one of the most common materials used in black metal roofing. This durable and strong material has been used for centuries to construct buildings, bridges and other structures.
Steel black metal roofing is made up of several layers that provide excellent protection against harsh weather conditions. The top layer is usually coated with a special paint that gives it its black color.
One of the main advantages of steel black metal roofing is its durability. Steel can withstand extreme weather conditions such as heavy rain, strong winds, hail and snow.
It also resists rust and corrosion much better than other metals like iron or copper. Another benefit of steel black metal roofing is that it's relatively low-maintenance compared to other materials.
The best applications for steel black metal roofing are industrial, commercial or residential properties located in areas with harsh climates. Steel roofs are commonly used for warehouses, factories, retail stores, apartments and private residences.
Aluminum
Aluminum is another popular material used in black metal roofing. Aluminum roofs are lightweight yet very strong and durable. They're also highly resistant to rust and corrosion which makes them ideal for coastal areas where salty air can cause damage to other metals.
The main advantage of aluminum black metal roofing is its weight. It's much lighter than steel, so it's easier to install on a wider range of structures without requiring additional support beams or framework.
Aluminum also reflects heat more efficiently than other materials which can help reduce energy costs during the summer months. The best applications for aluminum black metal roofing are residential homes or commercial buildings with low-pitched roofs where weight might pose a problem or where energy efficiency is a priority.
Creative Subtitle: Choosing the Right Material for Your Roof
When selecting a material for your black metal roofing, it's important to consider your needs and budget. Steel is a popular choice for its durability and low-maintenance, while aluminum is ideal for homeowners who prioritize energy efficiency and lighter weight. Other materials like copper or zinc may also be worth considering depending on the style of your building, but they tend to be more expensive.
Ultimately, the right material will depend on where you live, the weather conditions in your area, and what look you're going for. Consulting with an experienced contractor or roofing professional can help ensure that you choose the right material that meets your needs and budget.
Installation Process of Black Metal Roofing
Preparation Process
Before beginning the installation process for black metal roofing, it is essential to prepare the roof surface adequately. The roof surface must be flat and free of any debris or protruding nails. It is also recommended to install a layer of underlayment on top of the roof deck before installing the metal panels.
The underlayment provides an additional layer of protection against water infiltration and helps to maintain a uniform surface for the metal panels. After preparing the roof surface, it is crucial to measure and cut the metal panels according to the dimensions of your roof.
It is recommended to use specialized cutting tools such as snips or shears designed for cutting metal roofing. Cutting with these tools helps minimize the risk of damaging the panels while ensuring accurate cuts.
Installation Process
Once you have prepared and cut your black metal roofing panels, it's time to begin installing them onto your roof. The first step is to attach starter strips along the eave edge of your roof.
Starter strips are essential as they provide a secure base for attaching your first course panel while allowing for proper water drainage off your roof. Next, install J-channel trim pieces around all edges and corners where two surfaces meet on your roof.
These channels serve as a protective barrier between other building materials like siding or brickwork that may be in contact with your roofing system. Begin laying down each panel onto the previously installed starter strip one at a time until completion across the entire roof.
Finishing Touches
After completing installation, finishing touches are necessary before considering a black metal roofing project complete. These finishing touches include sealing all small gaps around trim pieces with silicone caulk or other appropriate sealants such as butyl tape. It's also essential to clean up any excess debris or material left behind during installation.
A thorough inspection of the roofing system should be conducted to ensure the panels and trim pieces are level, secure, and without damage or defects. These finishing touches will ensure that your black metal roofing project is complete and will provide a long-lasting roofing system for many years to come.
Cleaning Tips for Black Metal Roofing
Keeping your black metal roofing clean is an essential part of maintaining its durability and longevity. Over time, dirt, debris, and other materials can accumulate on the surface of your roof and cause damage to the metal.
Luckily, cleaning your black metal roofing is a relatively simple process. To begin, remove debris such as leaves or sticks from your roof using a broom or leaf blower.
Next, use a garden hose or pressure washer to rinse off any remaining dirt or debris. Be sure to use a low-pressure setting on your pressure washer to avoid damaging the roofing material.
If there are stubborn stains on your black metal roof that won't come off with water alone, you can try using a mild detergent mixed with water. Apply the mixture to the affected area using a soft-bristled brush and rinse thoroughly with water afterward.
Inspection and Maintenance Tips for Black Metal Roofing
Regular inspections of your black metal roofing can help you detect potential problems before they become costly repairs. Check your roof at least once per year or after any significant weather events such as heavy rain or windstorms.
During the inspection process, look for any loose or missing screws, damaged flashing, or cracked panels. These issues can lead to water damage if left untreated and could compromise the structural integrity of your roof.
In addition to regular inspections, consider scheduling routine maintenance with a professional roofing company. They can help keep your black metal roof in excellent condition by performing tasks such as resealing flashing around chimneys or vents and tightening loose screws.
Conclusion
Overall, black metal roofing is an excellent option for homeowners who are looking for an attractive and durable roofing material. With proper cleaning and maintenance techniques in place, you can ensure that your black metal roof will last for many years without issue.
Remember to inspect your roof regularly and keep an eye out for any potential problems. By taking proactive measures to maintain your black metal roof, you can avoid costly repairs and enjoy the peace of mind that comes with having a structurally sound roofing system.